The Farmer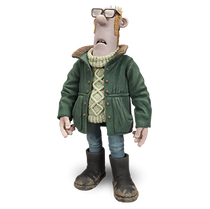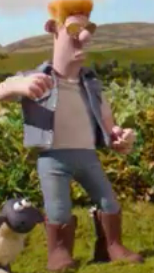 Character Information
Gender:
Male
Also known as:
Mr. X (Shaun The Sheep Movie)

Jumba

Species:
Human
Friends:
Wallace, Shaun, Bitzer, Shirley,Timmy, Ginger Hancock (partner), GeeGee Sutherland Roderick Finlayson, Marc Anciel, Brandy Harrington
Enemies:
The Fox, The Pigs (Sometimes), Trumper, Mad Mod, Lucia Farnum, The Farmer's Niece (briefly)
Relatives:
Umnamed Parents, The Farmer's Niece
First Appearance:
Off the baa!
He wa a re-sculpt of Mr. Hugh from Stage Fright.
Personality
Edit
The Farmer is an oblivious and clumsy gentleman. He has a like for different things, which The Flock also want to do. He has several flaws, but above all, he is a caring and devoted farmer. He always speaks in mumbo-jumbo and uses rather action to communicate.
The Farmer has over the course of the series been shown to have several hobbies, the most notable of which is his love for his tractor. The Farmer has shown particular outrage when his tractor is either destroyed or damaged.
The Farmer has also been shown to enjoy tending his garden, and has shown an particular interest in flowers.
Prior to the show, the Farmer was also a prized golf player, with Bitzer being his caddie. It is unknown why The Farmer quit as a golf player, but it could be that he took over the farm at the time and could not find time to spare to maintain this hobby. His Afro-like appearance in the same episode also indicates that he was a renounced dancer back in the 80s.